November 2015 – March 2016
Artist Residence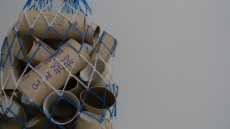 During her residency in Zurich from November 2015 to March 2016, Chow will be involved in different projects run by herself or together with partners from Zurich and from elsewhere.
About Yik Chow
Yik Chow, grew up in Hong Kong. She has studied her BA in School of Creative Media, City University of Hong Kong. She experimented with different forms of moving images, indulged with filmmaking, video installation, new media art, etc. While studying in Aalto University (Helsinki, Finland), School of Art, Design and Architecture for her MA in Visual Culture, Yik flourished her life long appreciation towards contemporary and emerging artistic practices and understanding of the possibilities of art as a tool in social contexts and environments.
She identifies and re-contextualizes the existing environments, creating a new narrative environment and approaches. Her works revolve around the thematics of belonging, presence and recollection. She had been working and living between Europe and Asia. Her video works were selected in Berlin Talents in Berlinale and Film di Roma, as UNESCO Aschberg Laureate 2014 at the National Studio of Museum of Modern and Contemporary Art in Seoul. She has participated in different exhibitions across the globe.
Chow initiated a curatorial collaborative "case-open-close" with Yip Kai Chun in 2015. The name case-open-close suggests the nature of projects it envisions: cases travelling from and to different places, keeping open, in whatever forms and places it sees fit. case-open-close hopes to bring together artists, creators & any other interesting people, who may otherwise not have the chance to meet and inspire each other. It has a particular interest in fresh and free-spirited minds that are less seen and known outside of major art and cultural venues. Similarly, case-open-close hopes to drift to locations less explored, opening cases less known. With its cases, it hopes to dissolve conventional boundaries and frameworks.