Summer Academy "Common Stage 2014 – The Arts Between Cultures"
14 July – 10 August 2014, Hong Kong
Short description
"Common Stage" is a transcultural and cross-disciplinary summer academy and a collaboration of Connecting Spaces Hong Kong – Zurich, Zurich University of the Arts and the Hong Kong Academy for Performing Arts including additional students from other institutions from Shanghai, Taiwan and Singapore. This education format is unique as it brings together European and Asian culture, traditional and modern art forms and involves a wide range of different art disciplines. During four weeks, 35 selected students (working towards BA and MA degrees) from the fields of theatre, music, design, fine arts, and arts education develop plays, performances, events, interventions, and installations in mixed groups before presenting their work to an audience in a city environment.
Thematic and theoretical inputs are incorporated into the process. This makes it possible to observe and reflect on one's own culture and that of others, as well as to develop innovative and comprehensive forms and formats of artistic expression.
Theme Summer Academy 2014 "To live a happy life"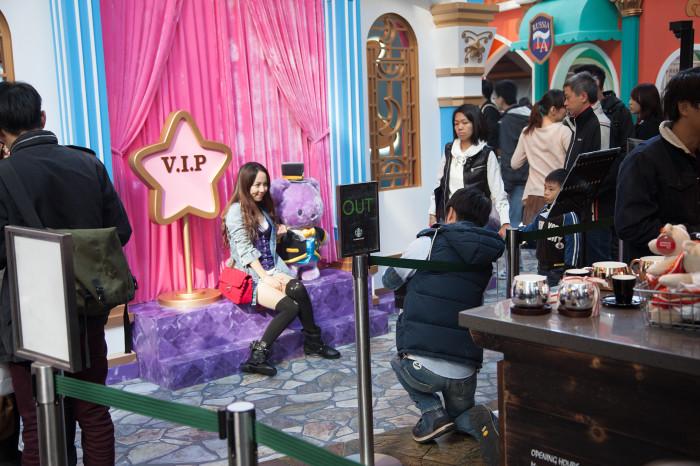 "To Live a Happy Live" is the title of this years workshop. We are interested in the current and various living conditions in Hong Kong, China and Europe, researching different ideas and ideals of a "good life", reflecting existing traditions, our values and orientations for the future.
We all are installed in a life that is determined by cultural, social and political conditions. At the same time we try to critically reflect these circumstances with the imagination to change them, to give our life (and those of others) a different shape, to develop and improve it. But the idea that we as subjects with an autonomous and free will are able to change these conditions often only leads to (superficial) promises of happiness like those in fashion magazines, cosmetic surgery or astrology. Taking in hand one's own life rather means to experiment with a daily practice and experiences in the field of obstacles, boarders, heteronomy, opportunities, crossing boarders and empowerment. Life has to be constantly formed, individually and collectively. A good or a better life therefore means a dedicated and active play with possible forms of life, driven by a the desire of freedom.
The practice of the arts provides strategies and stages for these experiments, as art is a way of dedicated disputing with different lifestyles. The meeting between cultures offers the occasion of to observe, experience and exchange between different cultural and social ways of living. The workshop allows the students to communicate in detail about their individual everyday lives (living, jobs, art, etc.) and thematise them in practical artistic and creative experiments. Hong Kong, a city that offers a wide range of forms and strategies of living or surviving, serves as the context and stimulation to this dispute.
Participating Students
Zurich University of the Arts (ZHdK)
Noemi Egloff, BA Theatre/Dramaturgy
Sophie Bock, BA Theatre/Acting
Thoko Kapiri, BA Theatre/Directing
Dennis Ginsig, BA Design/Visual Communication
Kevin Benz, BA Design/Interaction Design
Sabine Hürzeler, BA Design/Style&Design
Ramon Zolliker, BA Design/Interaction Design
Andrina Bollinger, MA Music/Jazz – Vocal
Tobias Fandel, MA Music, Composition Classic/Contemporary Music
Silvan Schmid, MA Music/Jazz – Trumpet
Simon Dietersdorfer, MA Composition for Film, Theater und Media (and Actor)
Ann-Christin Mbuti, MA Cultural Analysis/Publishing Studies (responsible for project blog)
Miriam Strauss, MA Cultural Analysis/Teaching&Learning
Theresa Weiss, MA Cultural Analysis/Curating&Museum Education
Michael Bodenmann, MA Fine Arts
Hong Kong Academy for Performing Arts (HKAPA)
Chen Siyun, MFA Dance/Choreography
Wendi Elysa, MFA Dance/Film
Zeng Ying, MFA Dance/Choreography
Chung Siu Hei, BFA Directing
Li Wun Hang, Benson, MFA Sound Design
Liang Yunqi, BFA Scenic Art
Ng Chi Fai, MFA Arts&Events Management
Wong Kai Man, MFA Sound/Music Director
Yuan Yuan, MFA Arts&Events Management
Xie Xiaoyu, Adv. Dip. Cantonese Opera Performance
Shanghai Theatre Academy (STA)
Tong Shanshan, MA Directing Chinese Opera/Drama
Liu Pengpeng, MA Directing Drama
LaSalle Arts College, Singapore
Chanel Ariel, BA Theatre & Performance/Acting
Polytechnic University Singapore
Chen Han Fei, BA Fine Arts
City University Hong Kong, School of Creative Media (SCM)
Angie Li, MA Creative Media
Shuang Tang, MA Creative Media
Taipei Li-yuan Peking Opera Theatre
Shu-ching Yang, Acting Chinese Opera/Design
Yue-xun Cai, Acting Chinese Opera
China Academy of Art, School of Intermedia Arts, Hangzhou
NI Xiaoyu, MA Intermedia Art
TAN Lijie, MA Intermedia Art
Project Team
Zurich University of the Arts
Daniel Spaeti, Project Lead, Lecturer/Designer/Cultural Manager, Zurich
Zhao Chuan, Author/Director, Shanghai
Nuria Krämer, Artistic and Scientific Associate/Head of Connecting Space Hong Kong ZHdK
Till Löffler, Musician/Director, Lecturer ZHdK, 2nd week (21 – 26 July)
Dimitri de Perrot, Musician/Composer/Director/Stage Designer, Zurich, last week (1 – 10 August)
Hong Kong Academy for Performing Arts
Ceri Sherlock, Chair of School of Drama, Project Lead HKAPA
Gillian Choa, Chair of School of Theatre and Entertainment Arts
Chan Hiu Fung/Lily Fung: Production Manager
Workshops/Lectures/Observer
Danny Yung, Artist/Director/Curator, HK
Roy Szeto, Professor, HKAPA
Mok Chiu Yu, Performance Artist
Bo Zheng, Artist, Shanghai/HK
Kung Chi Shing, Musician/Curator
Jessey Tsang, Film Director
Man Lee, Performance Artist (Workshop)
Till Löffler, Lecturer ZHdK
Mok Sio Chong, Performing Artist, Macao
NN, Youth Social Activism, HK
Elizabeth de Roza, Head of BA Theatre & Performance, LaSalle Art College, Singapore (Observer, 24 July – 4 August)
Workshop Program
Timetable of the Summer Workshop
Workshop Language
English
Public Presentations
8 (main) and 9 August 2014
Venues to be defined
Blog
Common Stage 2014 (from 19 July by Ann-Christin Mbuti, ZHdK)
Supported by Mercator Foundation Switzerland