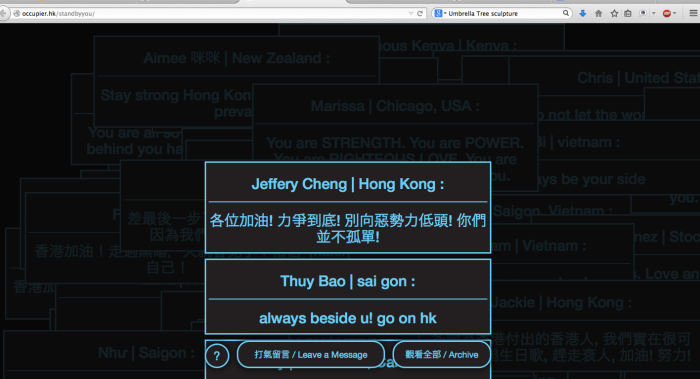 "'I really would like to encourage Hong Kong people and artists to keep on doing as they did until now. Go on with this respectful, but very self-confident way to express the visions of a possible future society in Hong Kong,' Nuria Krämer says.
She believes that artists have the capacity to capture and give form to continuously complex changing settings — and artists' roles regarding recent events in Hong Kong have been indispensable.
'The power of art is to take into the frame of experience what otherwise is difficult to grasp. The value of art could therefore be seen in the creation of settings where these forms can conflict, provoke discussion and be experienced. We need to render explicit our differences and understandings, in order to move the debate further in a fruitful way.'"
Excerpt from an article in My Art Guides: Three artists based in Hong Kong, Yeung Yang (Founder and executive director of soundpocket), Nuria Krämer (Head of Connecting Space Hong Kong) and Jaffa Laam Lam (Senior Lecturer at Hong Kong Art School), share their insights of the recent student-led protests across Admiralty, Causeway Bay and Mongkok in Hong Kong. The article also gives some background information about the Umbrella Movement with a focus on artistic practices.
Open discussions
Meeting with students visiting Zurich from the School of Creative Media, City University of Hong Kong, currently in Zurich
Date and Time: 2pm, 14 October 2014 (Tuesday)
Venue: Zurich University of the Arts, Toni-Areal, Pfingstweidstrasse 96, Zürich, Galerie 2
Duo-city Skype meeting
Date: 16 October 2014 (Thursday)
Time and Venue:
Zurich: 1 pm, Zurich University of the Arts, Toni-Areal, Pfingstweidstrasse 96, Zürich, Galerie 2
Hong Kong: 7 pm, Connecting Space Hong Kong, G/F, Wah Kin Mansion, 18-20 Fort Street, North Point, Hong Kong
Supporting platforms