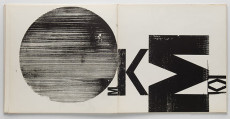 Regarded as the "enfant terrible" of modern Swiss typography, Wolfgang Weingart has revolutionised established typography rules since the mid-1960s, shaping generations of designers as a typography teacher. This exhibition at d-mart presents the groundbreaking work, creative process and teachings of Weingart and the work of his students.
About Wolfgang Weingart
Wolfgang Weingart was born in 1941 in the Salem Valley, Germany. From 1958 to 1960 he attended the Merz Academy in Stuttgart, where he first came into contact with typesetting. From 1960 until 1963 he was apprenticed as a typesetter at the printing company Ruwe in Stuttgart where, through the in-house graphic designer, he became familiar with Swiss typography. His fascination with this subject led him to continue his training from 1964 to 1968 at the Kunstgewerbeschule Basel under Emil Ruder and Armin Hofmann. From 1968 to 1999 he taught typography in the Advanced Class for Graphic Design at the Basel School of Design and until 2004 at the Academy of Art and Design Basel (HGK Basel). In addition, Weingart gave summer courses in Brissago (Yale Summer Program in Graphic Design) and lectured throughout the world from 1972 onwards. From 1978 to 1999 Weingart was a member of the AGI. In 2000 he published a comprehensive autobiography, which was reissued by Lars Müller Publishers in 2014. Weingart has received several awards for his life's work. In 2005 he was granted an honorary doctorate in fine arts by the Massachusetts College of Art and Design in Boston. In 2013 he was awarded the AIGA Medal, and in 2014 he was the recipient of the Grand Prix Design award from the Swiss Federal Office of Culture.
An Exhibition by
The Museum für Gestaltung Zurich and Hong Kong Design Institute Gallery
Jointly Organised by
HKDI Gallery, Museum für Gestaltung Zurich, and Connecting Spaces Hong Kong – Zurich, Zurich University of the Arts
Supported by
Hong Kong Arts Development Council
Supporting Organisations
Consulate General of Switzerland in Hong Kong, Hong Kong Design Centre, Hong Kong Designers Association, Hong Kong Federation of Design Associations, Design Council of Hong Kong, Hong Kong Arts Administrators Association