Concert
Tuesday, 14. October 2014, 8.30 pm
Toni-Areal, Zürich University of the Arts, Pfingstweidstrasse 96, 8005 Zürich, Konzertsaal 1
Samson Young: The Anatomy of a String Quartet (2014). Eine Performance-Installation
Mivos Quartet (USA)
Olivia De Prato, violin
Joshua Modney, violin
Victor Lowrie, viola
Mariel Roberts, violoncello
Samson Young, performance, elektronics
Institute for Computer Music and Sound Technology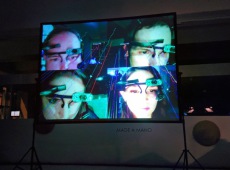 Music may be examined under a microscope: zooming into sound brings its partials beyond any previous limit, and it gets by this available for composition; the meticulous observation of the instrumental production of sound makes perceptible the conditions under which music is heard and thought. In contrast to these spectral or dialectical compositional approaches, the performance-installation by Samson Young magnifies the sound body string quartet through a burning glass. It is an examination of its anatomy, more precisely: the anatomy of the four interpreters with their gestures, their bodily expressions, but also with their biodynamic body processes which are usually neither heard nor seen. And as in a laboratory there is a technical apparatus applied between the object and its (enlarged) representation: Video cameras are measuring the playing bodies, biosensors the data from heart, brain and eyes. In different processes of translation, the obtained acoustic and visual material is projected into the concert hall. And as with the microscope, the object in its original size – the string quartet – disappears: In "The Anatomy of a String Quartet" it is playing outside of the concert hall, perceived only afar. It is the performer and experimenter who is visible and audible and who is merging the different data into a live-composition.
Coproduction with City University Hong Kong, School of Creative Media; International Society of Contemporary Music, Zürich; Institute for Computer Music and Sound Technology, ZHdK
Composer, sound artist and media artist.
Received training in computer music and composition at Princeton University under the supervision of computer music pioneer Paul Lansky. In 2007, he became the first from Hong Kong to receive the Bloomberg Emerging Artist Award for his audio-visual project "The Happiest Hour." In 2009, CNN's global portal CNNgo named him one of the top "20 people to watch in Hong Kong." His brainwave non-performance "I am thinking in a room, different from the one you are hearing in now" received a Jury Selection award at the Japan Media Art Festival, and an honorary mention at the digital music and sound art category of Prix Ars Electronica. He was Hong Kong Sinfonietta's artist associate in the 2008/09 season, an organization for whom he had created a number of multimedia music productions.
Festival presentations and honors include: Prix Ars Electronica (Austria 2012); Japan Media Art Festival (Japan 2012); Sydney Springs International New Music Festival (Australia 2001), the Canberra International Music Festival (Australia 2008), ISCM World Musid Days (Australia 2010), MONA FOMA Festival of Music and Art (2011); the Bowdoin International Music Festival (US 2004), Bang on a Can Music Summer Music Festival (US 2005), Perspectives International Festival of Media Art (US 2009);  Internationales Musikinstitut Darmstadt (Germany 2006); Dark Music Days (Iceland 2008); Kuala Lumpur Contemporary Music Festival (Malaysia 2009); Microwave International New Media Arts Festival (HK 2004), October Contemporary (HK 2007 and 2009), Le French May (HK 2004 and 2009), and the Hong Kong Arts Festival (HK 2009 and 2010). His music received performances by Hong Kong Sinfonietta, New Jersey Symphony Orchestra, London NASH Ensemble, City Chamber Orchestra of Hong Kong, Bang on a Can and summer institute fellows, Network for New Music, New Millennium Ensemble, SO Percussion, Sydney Song Company, Hong Kong New Music Ensemble, MIVOS Quartet, among others.
The Mivos Quartet, "one of America's most daring and ferocious new-music ensembles" (The Chicago Reader), is devoted to performing the works of contemporary composers, presenting new music to diverse audiences. Since the quartet's beginnings in 2008 they have performed the works of emerging and established international composers who represent varied aesthetics of contemporary classical composition. Mivos is invested in commissioning and premiering new music for string quartet, particularly in a context of close collaboration with composers over extended time-periods. In the current 2013-14 season, Mivos has collaborated on new works with Sam Pluta (Lucerne Festival Commission), Dan Blake (Jerome Commission), Mark Barden (Wien Modern Festival Commission), Scott Wollschleger, and Patrick Higgins (ZS), and in early 2014 will develop new work with Richard Carrick (Fromm Commission), Eric Wubbels (CMA commission), Kate Soper, and poet/musician Saul Williams. Mivos is also committed to working with guest artists, exploring multi-media projects involving live video and electronics, creating original compositions and arrangements for the quartet, and performing improvised music. Mivos has appeared on concert series including Wien Modern (Veinna, Austria), Asphalt Festival (Düsseldorf, Germany), Concerti Aperitivo (Udine, Italy), HellHOT! New Music Festival (Hong Kong), Edgefest (Ann Arbor, MI), and Aldeburgh Music (UK), where Mivos was invited to work with the Arditti Quartet and Helmut Lachenmann. Mivos was one of five groups selected for the Young Ensembles Fellowship at the 2012 Darmstadt Internationalen Ferienkurse für Neue Musik, where they were awarded a Fellowship Prize for Interpretation.