22 August – 9 September
On 22 August we started the 2nd edition of our new transcultural and cross-disciplinary semester program called "Transcultural Collaboration". 26 selected MA students of all art and design disciplines from the involved partner institutions from Hong Kong, China, Taiwan and Switzerland have the possibility to study for one semester within this specific program. After a 3-weeks stay in Zurich the program continues in Hong Kong, its principal location.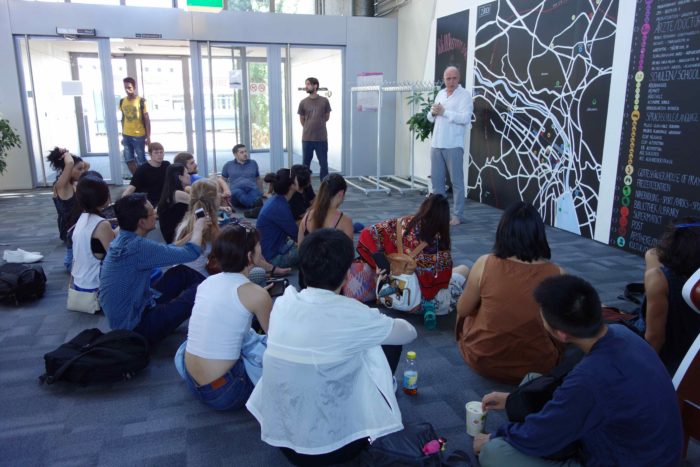 The starting phase is dedicated to introductions to the topic of transculturality in general, it's relation to the arts as well as to this years' semester topic called "Beyond Purity". These issues were connected with lectures on and excursions in Zurich to provide an understanding of our current living environment. In the second half of the starting module the participants formed small team constellations exploring the city and starting practical experiments. This process will be continued and continuously built up towards fixed teams and public presentations in Hong Kong.
Kick-off Events
Lecture
8 September, 1.30 pm
Zurich University of the Arts, Toni-Areal, Room 5.K01
Gwee Li Sui (Singapore): Whatever Happened to Politics in Singapore's English-Language Poetry?
The Singaporean writer Gwee Li Sui presents in his lecture his reflections about Singapore's English-literature poetry, tackles the different influences of an highly transcultural society and its relationships to politics. What can poetry say? How can poetry move?
Project Visit
8 September, 3 – 5 pm
Zurich University of the Arts, Toni-Areal, Room 7.F03
8 mixed groups will give insight in their first explorations in Zurich and practical experiments of the last few days including topics like time, squatting, laziness, boarders, retreat, glitches, strange feelings towards others, body and cyborgs in all kind of formats and media.
Participants
Students
Jesica Fernanda Bastidas Cruz MA Physical Theatre, Accademia Teatro Dimitri, Verscio (CH)
Angelo Brem MA Fine Arts, Zurich University of the Arts
Léo Collin MA Contemporary Composition, Zurich University of the Arts
Giulia Cudini MA Music Performance (Flute), Zurich University of the Arts
Terence Hiu Yin Leung Craft & Design Academy of Visual Arts, Hong Kong Baptist University
Daniel Eaton MA Transdisciplinary Studies Zurich University of the Arts
Dennis Ginsig MA Transdisciplinary Studies, Zurich University of the Arts
Huang Liangpeng Total Art, China Academy of Art, Hangzhou
Ying Hsiu Kuo Graduate Institute of Trans-Disciplinary Arts, Taipei, National University of the Arts Taiwan
Wanqi Li School of Creative Media, Hong Kong City University
Hao Li School of Creative Media, Hong Kong City University
Andreas Mayer MA Theatre/Scenography, Zurich University of the Arts
Geoffrey Mwalimbunga Mbene MA Theatre/Performance, Bern University of the Arts
Regina Ho Yee Man Studio Art, Academy of Visual Arts, Hong Kong Baptist University
Men Jiecong Curating of Contemporary Art, Academy of Art, Hangzhou
Jiyun Park Cinematic Art & New Media, School of Creative Media, Hong Kong City University
Evan Ruetsch MA Fine Arts, Zurich University of the Arts
Yannik Sandhofer MA Composition and Theory/Pop, Zurich University of the Arts
Hsin Pei Tseng Graduate Institute of Trans-Disciplinary Arts, Taipei National University of the Arts
Hei Man Leung Studio Art, Academy of Visual Arts, Hong Kong Baptist University
Jan Vorisek MA Fine Arts, Zurich University of the Arts
Liu Yang Dance Choreography, Hong Kong Academy for Performing Arts
Yuan Yuan Media Art, China Academy of Art, Hangzhou
Kai Ju Zhang MA Music Performance (Saxophone), Zurich University of the Arts
Xiaofei Zhang Cinema Production (Directing), Hong Kong Academy for Performing Arts
Chi Chi Cheng Studio Art, Academy of Visual Arts, Hong Kong Baptist University
Faculty (Zurich)
Daniel Späti, Designer/Curator, Head of Transcultural Collaboration, Zurich University of the Arts
Kingsley Ng, Artist, Head of MA Craft & Design, Studio Art, Academy of Visual Arts, Hong Kong Baptist University
Zhao Chuan, Theater Director/Author/Art Critic/Curator, Shanghai
Ricardo Eizirik, Composer, Research Associate MA Composition, Zurich University of the Arts
Dimitri De Perrot, Musician/Director/Stage Designer, Zurich
Katja Gläss, Photographer/Research Associate MA Transdisciplinary Studies, Zurich University of the Arts
Simon Dietersdorfer, Actor/Musician, Zurich University of the Arts